Below is all the necessary information you need to know about Saturday's match day three encounter against Police Ladies Football Club at the Sekondi Gyandu Park…
Place and Time
The Police Ladies team makes a trip to the Sekondi Gyandu Park to play Hasaacas Ladies FC on Saturday, October 22, 2022 for the 2022/2023 Malta Guinness Women's Premier League and the Kick-Off time is 3:00 pm.
Football fans living around Sekondi and its environs are expected to throng the Sekondi Gyandu Park to support the Hasaacas Ladies FC to a third successive victory for the season.
The match will not be on Live Television so fans living outside Sekondi-Takoradi and willing to follow the game for updates can do so by visiting our Twitter and Instagram Stories for instant text updates and photo updates.
On Twitter (@HasaacasLadies) live text commentary of the game will be on and the hashtags to follow are Hasmal and MaltaGuinnessWPL.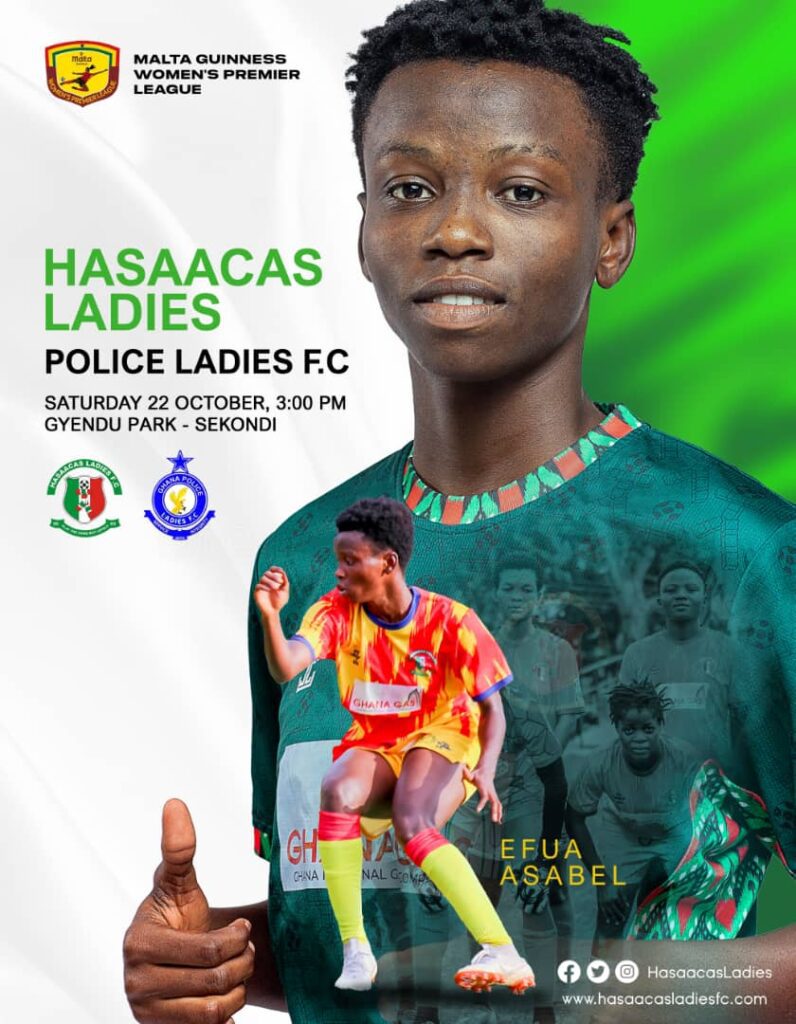 Preview
Our last game against Police Ladies FC at the Sekondi Gyandu Park ended 2 – 2; two second half goals from Faustina Nyame Aidoo and Veronica Appiah cancelling out Police Ladies' first half shocking two goal lead.
The return encounter proved a mere formality as Linda Epo struck first before Veronica Appiah added another to ensure Hasaacas Ladies conjured a 2 – 0 win.
In our previous five meetings; Hasaacas Ladies FC has won three of those, one has ended in a draw and one also ending in a 2 – 1 defeat to Police Ladies.
Team News
Milot Abena Pokuaa and Fatimata Tamboura remain side-lined due to injury and are the only two players currently on the side